One of the best moments of my life was the day I quit working for a boss.
I had a boss who bullied me every day. He was an a-hole. I'm sure you've dealt with a few bosses and people like that too – the naysayers, the Negative Nancys, the haters…they're kind of everywhere.
Here's the thing, the more successful you get, the more haters will come out of the woodwork and try to bring you down. But while you can't control what other people say or do, you can control the response you give them.
Will you let their negative energy defeat you?
Or will you use their energy in a positive way, fuelling your desire for even greater success? Because the best revenge is success, after all!
And when I'm talking about success, I'm talking about living a quality life on your own terms, being financially free to do what you want when you want, and having no controlling boss telling you what to do all the time. That's the dream goal, right?
So why don't more of us actually achieve that goal?
Why do so many people waste their lives mindlessly grinding away desperately wanting to leave their soul-destroying mundane jobs, stop working for a boss, and do their own thing, but they never get up and do anything about it?
Learn How To Build a Million Dollar Property Portfolio and Retire with Passive Income in Australia
Passive income is a type of unearned income that is acquired automatically with minimal labour to earn or maintain.
To earn a good passive income stream your source of passive income needs to have a passive income idea that generates income without working hard at it like having a job.
Whether it is an upfront investment with dividend income from Australian stocks and shares, exchange-traded funds, having an online business with affiliate sales and affiliate marketing selling online courses, managed funds, peer to peer lending or regular distributions from fixed-income investments.
To create passive income you have to have passive income ideas and passive income strategies.
Your passive income sources could be from an investment firm that puts extra cash in your bank account.
Passive income from commercial properties and residential property investment offer the opportunity for passive revenue. Retired Australian people tend to be interested mainly in passive income streams in property investment.
Passive income ideas will help you increase your cash flow and provide financial autonomy.
When many people think about the richest Australians in Australia it's not their salary, it's their passive income investments typically in real estate that drive their massive incomes. A Passive income is often what generates the highest income for the Australian population too.
Passive Income may not be an easy thing to achieve in many places in Australia but a good option for many people is to obtain a job and use their salary income as one of their primary sources to earn passive income.
It is however possible to earn a passive income stream from surplus cash from an initial investment of a few hundred dollars from personal finances or a credit provider will lend money based on your past performance to start investing to earn a passive income stream.
The Best Passive Income Ideas for Aussies (2022 Edition)
I love money, and a passive income source can be helpful in achieving your dreams.
Using money in any way to create a passive income without work is crucial to your financial autonomy.
How can I earn rental income from real estate in a passive and profitable way? Continue reading.
Pros and cons of investing in property
Property investment is often seen as being less risky than other forms of investment. However, while it may seem more straightforward, there are pitfalls to be aware of like capital gains tax. 
Besides that, here's what you need to consider about investing in the property market.
Active income – You earn money if the property is occupied and rented out.
Less volatility – Investing in property can be less volatile than the stock market, cryptocurrencies, or other minimum investments.
Capital growth – If your property increases in value, you will benefit from a capital gain when you finally sell.
Tax benefits or tax deduction – You can offset most costs involved in property expenses against rental income, including, legal fees, loan repayments, maintenance costs, property management fees, and interest on any investment loan used to buy the property.
It's a physical asset – Real estate investment is something you can see and touch.
No specialised knowledge required – Unlike some complex investments, you don't need any particular specialised knowledge in investing in property.
Cost – Rental income may not cover your mortgage payments and other expenses.
Interest rates rise – A rise in interest rates will mean higher repayments and lower disposable income.
Situational change: If your situation changes and you need to sell in a hurry, you could be selling during a 'down' phase, so you risk losing money.
Property is not a liquid investment: Your money is tied up if you invest in property, this means you don't have easy access to money in a hurry. You can't sell off a bedroom if you need quick access cash.
Vacancy – There may be times when you have to cover the costs yourself if you don't have a tenant.
Your Rental Property – Is the wrong property for a real estate investment.
Loss of value – If property prices go down you could end up owing more than the property is worth.
High entry and exit costs – Expenses such as government stamp duty, legal fees, conveyancing fees, search fees, national and local real estate agents fees, land tax, advertising costs, and pest and building reports and you may also have to pay capital gains tax.
If you want to gain the financial freedom to tell your boss where to go, I'm going to give you my best tips on how to do it. 
Your 'why' is your big reason for leaving. It's what motivates you to work hard every day to create the scenario where you can actually leave, and start to do your own thing.
People are motivated to succeed in different ways. Some are motivated by the idea of being able to provide more for their families, some are motivated by having the financial freedom to go on 4 holidays a year, buy that supercar, buy a big yacht… everyone's different.
There are two main types of motivation. There's motivation from and motivation to.
Basically, does the thought of getting away from a mundane job, the rat race, or a situation motivate you? Or does the feeling of achieving something motivate you?
For example, wanting to get away from office politics at your work is motivation from. 
Hating the type of work you do every day at your job is motivation from. You want to get away from something.
Where motivation to is when you're looking forward to something in the future you're yet to do. It could be an achievement of setting up your own business. It could be the dream of buying a big new house by the beach. It could be having the money to take your family on 4 holidays a year and driving your supercar.
Both types of motivation are important and powerful. Make sure that when you think about why you want to leave your job and gain passive income, you include both types of motivators in your reason.
Tip 2: Pick your passive income vehicle
There are many ways to get passive income, but most people choose between the "big two": property and stocks and shares. 
While the stock market can be a rollercoaster full of high risk, generating passive income – if you invest right – it's a sure thing.
Is a low-input business a good investment in Australia?
The Australian property market runs in cycles that result in around 6.8% growth annually. 
Yes, there are dips and rises, that's what cycles do. But the property market value doubles approximately every 10 years. 
Not doing your homework
Investing in property requires effort. The cyclical character of real estate remains an area largely ignored by most property investors as does capital growth, and rental income, property management fees versus paying for maintenance costs and property managers.
Most investors fail to understand their local neighborhood or understand the fundamental investment principles for their property purchase.
Yes, even with market shocks like the global financial crisis and most recently COVID-19. Just look at property trends in Australia for property investors in the past 50 years and you'll see a positive upward pattern trend.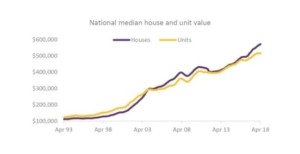 There's a reason why people don't say 'safe as stocks and shares, they say 'safe as houses!
There will always be demand for property because people will always need somewhere to live and work. and while trends will come and go, if you buy in a central, good location, your property should stay in rental demand. 
And when you can invest in the right property, in the right locations, at the right time, you can build a property portfolio that gives you passive income and the financial freedom for property investors to live however you choose to, and when you choose to without worrying about money ever again.
Beware of the self-employment trap
A lot of people quit their job and start their own business. 'I'm finally free!' they think.
But then the reality sinks in – they're working longer hours, and often earning less than when they worked as an employee!
Or they'll quit their job and get into property, but will spend their time developing or flipping property chasing their financial goals. 
While this can result in a short-term payoff, it requires a lot of hard work – basically, you've handed in your old job to start a new full-time career as a professional property manager!
Borrowing money to buy.
Property investors sometimes borrow to invest, you will have to pay the investment loan. Don't rely on rental income to cover the loan– there may be times when your property is empty.
Many people buy investment property with interest-only loans, but remember the interest-rates only period will end after a certain time. This means your repayment interest rates will increase to pay the amount borrowed, plus the interest.
Property portfolio.
I don't know about you, but I view financial freedom as not having to work for my money at all. 
I want to be making money while I'm sleeping, while I'm out having lunch, while I'm visiting friends, and whatever else I choose to do in my life. And thanks to my property investment portfolio, I do.
In short: I don't sacrifice my lifestyle to make money. And neither should you.
Personal finance expert Robert Kiyosaki from Rich Dad Poor Dad fame illustrates this well through his Cash Flow Quadrant. 
In each corner of the quadrant below, you've got the different types of wealth generation.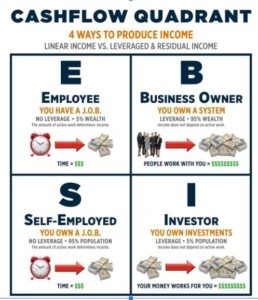 As you can see in the diagram above, the best way to leverage the most income for the least work is to be an investor.
As an investor, your income keeps building whether you work or not.
Having a cash flow positive property portfolio gives you this freedom in your investment journey.
I personally make around $1,000,000 dollars a year in passive income from my investment properties regardless of property prices. The best part? It takes me less than 20 minutes a week to maintain my investment properties.
What's your investment strategy
You'll need to form an idea of how you will make profit from your first investment property.
The most common investment strategies are:
Buy and hold. Purchase the property, wait for the value to rise, and then sell. Income from rent can cover the mortgage repayments until the property is sold.
Renovate and add value. Purchase the property, renovate it to add value to it, and then sell it at a profit.
Capital growth. Some investors try to zero in on a property and location that, in the current real estate market, will quickly grow in value.
These capital growth investors may sit on a property and then sell the property after just a few years.
Finding the right property
Finding the right property is perhaps the most important step of all.
You need to find a property that matches your investment strategy, appeals to renters, and will retain value over time. You'll also need to make sure you're paying a fair price for the property and check that the property is structurally sound.
You will need to make decisions on the following questions:
Property type. Will you invest in a commercial unit, a freestanding house or a townhouse?
New or established. Some investors prefer buying brand new buildings while others see more value in established dwellings.
Overseas investment property
Investing in overseas property is riskier than investment property in Australia. It's harder to manage a property from afar and there may be costs that you haven't thought of.
Here are some things to consider before you invest:
Distance – Good tenants and a good property manager are hard to manage when you're so far away.
Renovations and repairs – You can't supervise repairs, manage cash flow or know who does the work.
Extra costs – You must factor in Australian tax laws, local property taxes, insurance, management costs, and ongoing repairs. If you buy through a real estate agent, there may be other hidden costs involved.
Exchange rate and the interest rate – changes could affect how much income you receive.
How to get started building passive income and say goodbye to your job.
Building a passive income through investment property isn't a 'get rich quick scheme. It takes work at the beginning to set up.
You've got to have the right property investment and right property management strategy in the property markets.
You've got to know what each of Australia's 12,000 markets is doing.
You've got to be able to identify what is a good deal and what is investment-grade property.
And you've got to have the right people around you who offer professional personal financial advice about quality tenants, the costs involved in property investments, property values, and investment loans and who can set all your legal, financial, and management obligations up so that we can guide you through the entire process so you can run your portfolio ' hands-free'.
The good news is it's entirely possible, and if you commit to taking action NOW, you will be reaping the rewards of your actions within just a few years (or less!)
The key is to get the right knowledge and coaching so that you have the right investment strategy and avoid the common pitfalls that leave most people stuck at their first property.
At Positive Property Solutions, we've helped 100's of Australians create property portfolios that put tax-deductible income in their pocket every week, while also growing assets for a comfortable retirement.
Take a look at what our happy members have to say on this page: https://positiveproperty.net/case-studies/
And when you're ready to start your property investing journey, get in touch with one of our friendly team using this booking link below.
https://positiveproperty.net/book/
Or join our 14 day LIVE challenge where I personally guide you to create a blueprint for getting your first, second, third, and fourth (and beyond) property investment goals.
Click here to find out more about the 14 Day Live Positive Property Challenge